Getting good sleep contributes to a healthy body and mind. And while some sleep products can target the problems that keep you from getting that much-needed eight full hours of sleep, they come with their fair share of drawbacks. So much for comfort and healthy living, right?
Luckily, there is a fantastic, all-natural solution to your sleep issues: bamboo sheets.
Bamboo Sheets are soft, durable, and environmentally friendly. Since bamboo is stretched into the length of the sheet, there's no emphasis placed on the thread count, giving manufacturers the freedom to prioritize comfort. With bamboo sheets, you will always experience top-tier comfort no matter what season it is! 
Bamboo is a great bedding fabric to consider to improve your sleep. 
Sounds good, doesn't it? Let's dive a little deeper to understand the intricacies of bamboo sheets and what you should know before loading up your shopping cart. Bamboo Bedding is the next best thing, take a look at Bamboo Sheets. 
What Are Bamboo Sheets Made Of?
Bamboo sheets are made from bamboo fibers. Today, there are four different types of bamboo sheets available on the market. They are distinguished based on the materials used in their production: Viscose, Lyocell, Modal, and Linen. 
Viscose from Bamboo
Bamboo Viscose (or Bamboo Rayon) is the most common type of bamboo sheet available for purchase. Sheets made of 100% bamboo viscose are known for being incredibly soft to the touch, naturally hypoallergenic, and thermoregulating. They also offer top-tier moisture-wicking properties and resist odor and bacteria. The best thing about these sheets? They're very affordable. And as bamboo viscose takes dye easily, users can also expect to find the sheets in a range of color options and designs to meet their interior decor needs.
Lyocell
Bamboo lyocell is created by dissolving raw bamboo using non-toxic solvents. Sheets made with 100% lyocell tend to be quite delicate. This means you'll have to follow their care and maintenance instructions down to the T to experience the many benefits they offer. If different synthetic fibers are mixed with lyocell during production, it may not even be biodegradable on its own. Before purchasing, check for transparency and sustainability to avoid spending big money for a product that you won't get much use of.
Modal
The process used to create bamboo modal is quite similar to the one used to create bamboo viscose. The most notable difference is that modal sheets go through further processing to make them a bit more stretchable. While this process does make them thinner, lighter, and stronger. 
Linen 
Bamboo linen is created using a chemical-free mechanical process. And while it does offer some relief for eco-conscious shoppers, these sheets do have their fair share of downfalls. They're not as soft as other bamboo sheets and tend to be more prone to wrinkling.
Types of Bamboo Weaves
Bamboo sheets don't have a one-size-fits-all method of production. The weaves that go into the making of bamboo sheets may differ, which can affect their feel and performance. Here's a rundown of the most common types of weaves used in bamboo sheets to help you make a more informed decision.
Percale
The percale weave uses a one thread over, one thread under pattern to create a crisp, lightweight fabric. While these sheets have the breathability factor covered, they're notably prone to wrinkling.
Sateen
The sateen weave uses one thread under and three/four threads over to create a fabric with a silky feel. While these sheets do resist wrinkling, they trap heat and snag easily. They may require more care and maintenance to retain their soft, silky feel.
Twill
The twill weave uses diagonal parallel ribs to create texture, which adds to its durability. The twill weave is significantly tougher than the sateen weave, which does not bode well for comfort.
Pros and Cons of Bamboo Bedding Sheets Infographic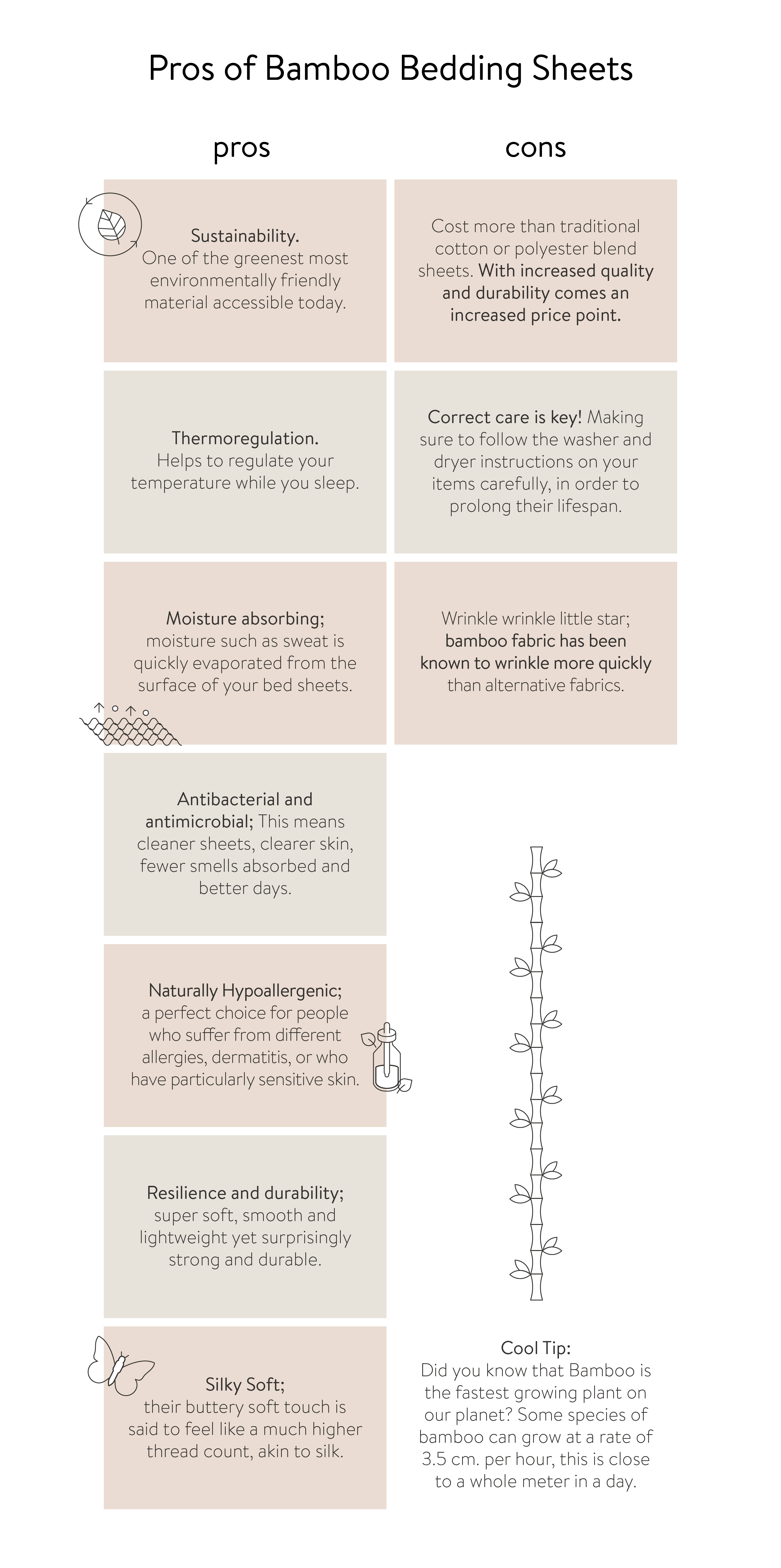 Pros of Using Bamboo Sheets


Softness
Does comfort quotient drive your sleep quality? Well, you'll be happy to know that bamboo sheets can provide all the comfort you need. They are incredibly soft to the touch, so they have a phenomenal advantage over other types of bedding. Some enthusiasts even say they're softer than cotton sheets! While the exact hand feel ultimately depends on the weave and material used in production, it's safe to say that most bamboo sheets are the softest options on the market. You can rest assured that your new sheets will offer top-tier comfort to help you get that quality sleep day after day, week after week, month after month.         
Hypoallergenic
Bamboo is naturally resistant to pests and fungi and can be grown without pesticides and fertilizers. Bamboo sheets, then, have natural hypoallergenic properties. They resist moisture absorption, so they are relatively unlikely to cause allergy flare-ups. Bamboo sheets can be a definite holy grail for those with allergies or sensitive skin.
Durability
Bedsheets have to endure the many nightly tosses and turns that occur when we sleep, along with the deep cleaning they must regularly go through. Unfortunately, flimsy sheets are not up to the task, and they fall apart after a few weeks or months of use.
You will not have this problem when you use bamboo sheets. With proper care and maintenance, bamboo sheets can last for many years. They don't experience the same level of wear and tear as, say, cotton sheets. They also tend to hold dye better, keeping the colors vivid for a long, long time. Bamboo sheets also lack the capacity to absorb any type of moisture, meaning they won't take on the oils from your skin. This means your sheets can look brand new for years to come!
Antibacterial Properties
No matter how much care we take to maintain them, our beds can become breeding grounds for bacteria. Fortunately, bamboo sheets have antibacterial properties that can ensure your body's cleanliness while you sleep.
Eco-Friendly
Bamboo is a sustainable plant, and the processes that go into creating bamboo sheets are much more environmentally friendly when compared to other sheet types. Furthermore, any chemicals used in sheet fabrication are non-toxic. Water is also reused for multiple batches. Bamboo is a fast-growing plant, and no pesticides are used in its maintenance, so bamboo sheets ensure long-term sustainability.
Odor Resistant
Sweating at night can spell trouble for your sleep quality and duration. The smell and moisture trapped in the sheets can wake you up and disturb you at night. Bamboo sheets have deodorizing and moisture-wicking properties, so your bed will smell nice and clean for much longer.
Thermal Control
Bamboo sheets are fairly breathable, which helps you remain cool and comfortable even through peak summer evenings. Bamboo enthusiasts even claim that their sheets effectively regulate body temperature and keep it at the perfect point to be comfortable for hours at a time. If you're feeling too hot, bamboo sheets can effectively disperse your body heat to cool you down. And if you're feeling too cold in bed, bamboo sheets will absorb your body heat and reflect it, helping keep you warm.
Moisture Wicking
Bamboo sheets limit the amount of moisture from your body. This moisture-wicking property keeps one of the primary triggers of allergies (dust mites) at bay. With bamboo sheets, you can always stay cool and comfortable.
Cons of Using Bamboo Sheets


Expensive
The eco-friendly methods and resources used to create the bamboo sheets increase their production time, thereby bumping up the market price. Bamboo sheets are on the expensive side of the pricing spectrum, and they can cost between $50 and $300. While you will need to shell out more money upfront to benefit from bamboo sheets, they are definitely a worthy investment. The value you will get from their use easily surpasses the initial cost. With proper care and maintenance, you could be using the sheets for up to 15 years!
Wrinkles Easily
Bamboo sheets wrinkle very, very easily. This is partly due to their moisture-wicking properties, but it can also result from improper washing and drying. If you care about how your bed looks and prioritize neatness, bamboo sheets may not be the best fit for you. To prevent wrinkling, you can lay your sheets on a flat surface or hang them up to dry.
Care and Maintenance
Bamboo sheets require special care. The manufacturer's instructions printed on the label can ensure a good start to the care and maintenance process. You can easily prolong their life span by following the washer and dryer instructions. As you can see, the pros of using bamboo sheets far outweigh the cons. You shouldn't have to miss out on the many benefits bamboo offers just because it requires a little extra care and handling. After all, your one-time investment can give you great returns for the long haul!
Where Can I Buy Bamboo Sheets
With so many options available on the market, finding a reputable retailer can be quite a task. To save you the hours of research, we've found you the holy grail: Sunday Citizen. With Sunday Citizen, you're spoilt for choice. They offer premium bamboo sheet sets, bamboo flat sheets, bamboo fitted sheets,  bamboo pillowcase sets, and  bamboo duvet covers made of 100% viscose from bamboo. Their products also come in a wide range of colors and sizes to complement every style, mood, and decor you prefer. The icing on the cake? The entire collection is machine washable and can be tumble dried to ensure long-term use. Ultimate comfort and ease of use without harming the environment? Yes, please.
The Verdict on Bamboo Sheets
If you're looking for bed sheets that offer unparalleled comfort and health benefits without impacting the environment, bamboo sheets are the perfect addition to your household.
Soon, you can be on your way to enjoying a good night's rest—one that does compromise on comfort.