It's a quiet Sunday evening. You're enjoying a cup of tea and browsing through Sunday Citizen's luxury bedding collection looking for something to amp up your living space. You come across terms like 'shams' and 'pillow cases'. But hold on! Aren't they the same? Why are they listed as two separate items? Is it a mistake? Well, the answer's no. Simply said, pillowcases and shams are not the same. They might be similar but aren't the same pieces of bedding. 
Now, if you find yourself confused and want to learn more about them, Sunday Citizen has curated a comprehensive guide on everything you need to know about shams. From the very basics to even a few styling tips, this guide's got it all!
What Is A Sham?
A sham (also called pillow sham) is essentially a pillowcase with a false front. Shams find their origin in the 1700s when they were used to design decorative pillows with removable covers. Ever since, you can find them in the bedding aisle posing as ornamental cases that can zhuzh regular pillows into bold yet plush accessories for your bedding set. Shams come in different types and sizes. 
How Are Shams Different From Throw Pillows?
Pillow shams serve as removable, decorative covers for regular pillows. They differ from throw pillows in the core aspect as throws are used exclusively as decor elements, whereas shams can be put over your pillows to elevate them. 
Are Pillowcases and Pillow Shams The Same?
Nope! Pillowcases and pillow shams are similar, but not the same. Pillowcases are designed to cover pillows while being slept on. On the other hand, shams are used to accent the aesthetics of a space. Thus, you'll see that most shams are bordered, almost always on all four sides, with a flat piece of fabric or lace. It allows the sham to match better with other decorative elements of bedding like duvet covers or throws. Furthermore, along with their functionality, shams and pillowcases differ in their designs too. Shams have a middle of the back, usually zippered or buttoned shut, with a strip of overlapping fabric. In contrast, pillowcases have an obvious side opening to facilitate easy replacement.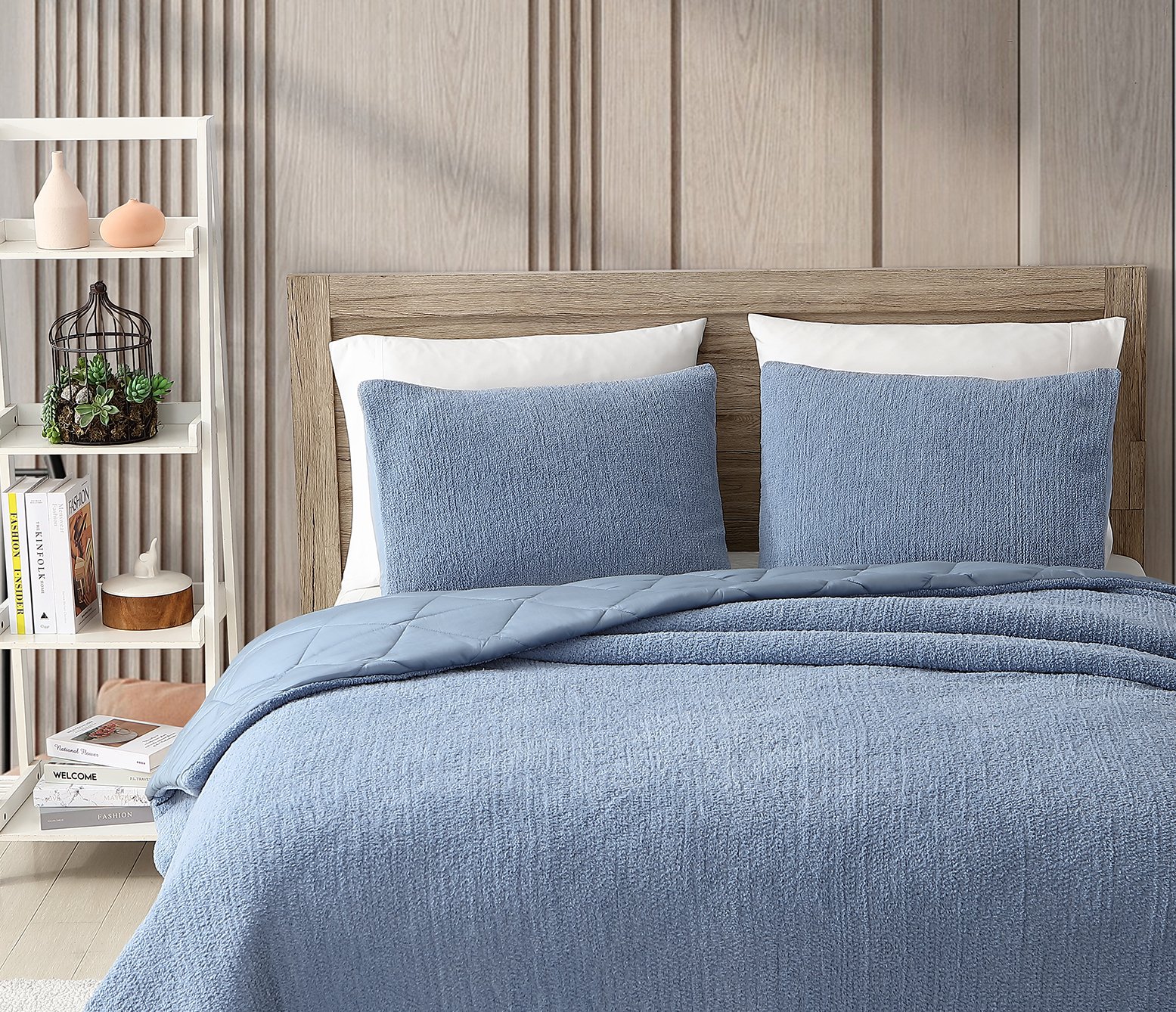 Why Should You Opt For Pillow Shams?
1. Multipurpose and Highly Functional Pieces of Bedding
Plush and comfortable, pillow shams can be slept on or used for lumbar support while sitting. In addition to this, they are excellent accessories used to brighten up a space. You can transform a regular pillow into a decorative one by simply slipping on a sham introducing textures and bold patterns into a room to elevate it tenfold.
2. Easy To Clean and Replace
The hidden opening in shams makes it easy for you to remove and wash them, just like regular pillow covers. They are the ideal choice if you've got children or pets, since they can be taken off and tossed in the washer for a quick spin regularly. 
3. Can Be Used Straight Out Of the Shopping Bag
Pillow shams are sold in pairs, as a part of a matching set like the Snug + Bamboo Sham Set. They are made of the same fabric as the other elements like the duvet covers to complement the overall theme of the bedding.  
4. Excellent For Introducing Patterns And Colors
In most cases, you can opt for shams in bright colors or bold patterns to add texture while layering. Doing this will help you add more depth and bring colors in from other spaces making the entire layout more harmonious. Shams are perfect if you'd like to add some glitz and glamor to your bedding without compromising on its functionality and luxurious feel.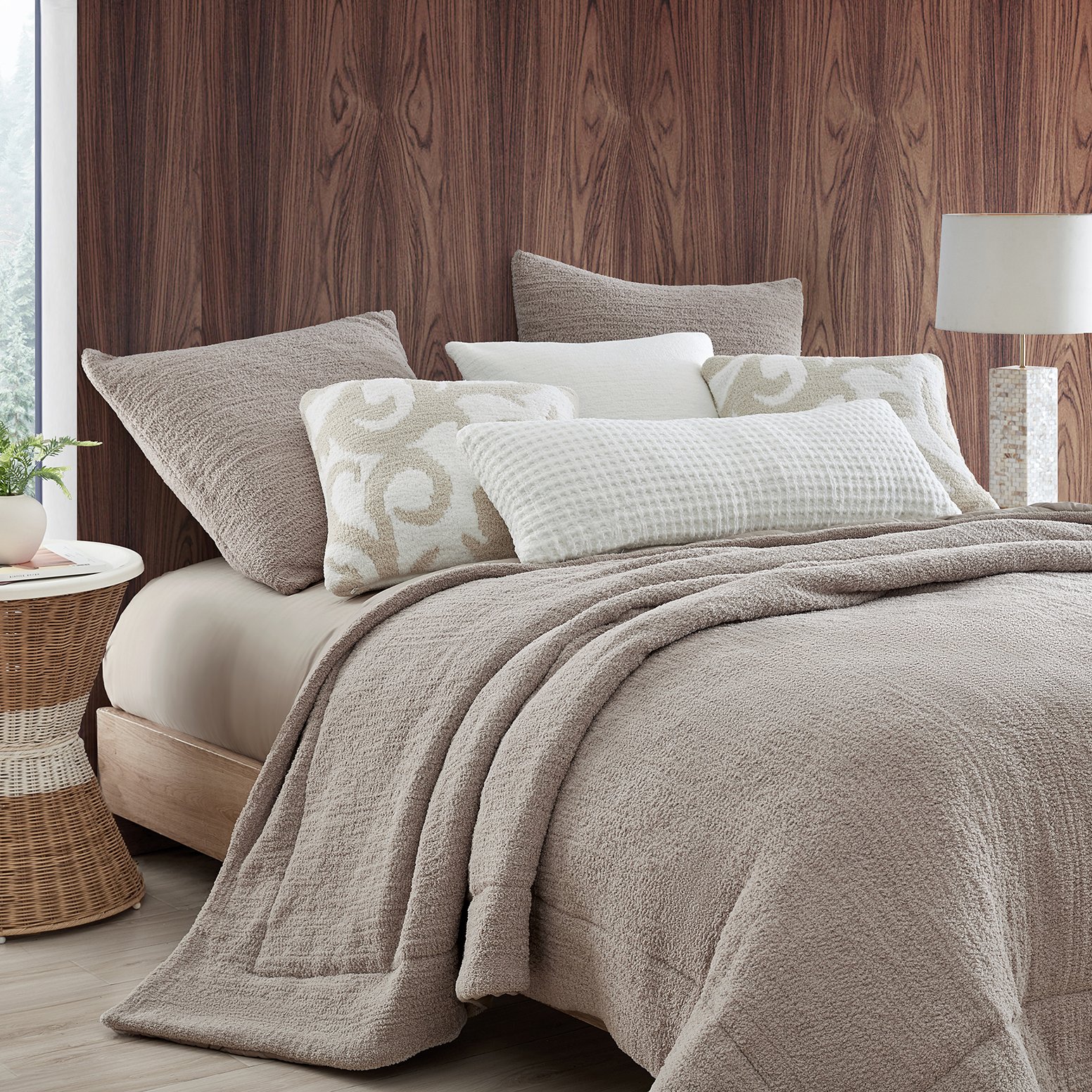 How To Style Your Bedding Using Shams
Pillow shams are perfect if you want to give your pillows a plush and elegant look. But it's not just about transforming your pillows, you also need to be well-versed in the art of displaying them. Here are three ways of using shams to upgrade your existing bedding arrangement.
1. Layers! Layers! Layers!
For a posh and sleek look, try layering your pillows. Layering allows you to arrange pillows of different sizes, textures, colors, and fabrics to create a symmetrical and minimalist design theme. If you're new to layering, you can start by leaning your regular pillows against the headboard and working your way out. Try to arrange them while keeping the lace or frills parallel to the edge of your bed. Working like this will help you display the fancy cuffs to accentuate the overall theme. 
While layering, try cleanly overlapping your pillows to create distinctive rows. This will prevent the entire setup from looking bulky and scattered. You can also finish off by adding some Snug Waffle Throw Pillows to highlight the layers you've created. 
2. Stack 'em Up!
If you're in a time crunch, you can create one of the simplest and quickest arrangements to elevate your bedding by stacking your pillows. You can start by layering your regular pillows flat against your mattress and then work your way up. 
While stacking your pillows, you'll need to see to it that the cuffs are parallel to the edge. It is also better to make sure that the frills are crisp and pointed outwards to give the arrangement a cleaner look. Finally, you can top it off by placing smaller pillows with decorative shams to complete the design. Try to use thin pillows or opt for the Snug Euro Sham with a leaner fill to prevent the arrangement from being too tall and unstable. Using sleek fabrics will allow you to introduce several layers without compromising on structural integrity. 
3. Just Toss 'em Around!
For a casual and more creative arrangement, just toss your pillows around! It will help you create a layered and asymmetrical look to add more style to your bedding. This arrangement works the best with pillows and throws of similar color and patterns. But, you can opt to personalize it by adding the Tulum Throw Pillow to introduce alluring textures! Never forget that this is your design. You can tailor it to accommodate as many or as few pillows as you'd like! So always remember to have fun and revel in the magic you make!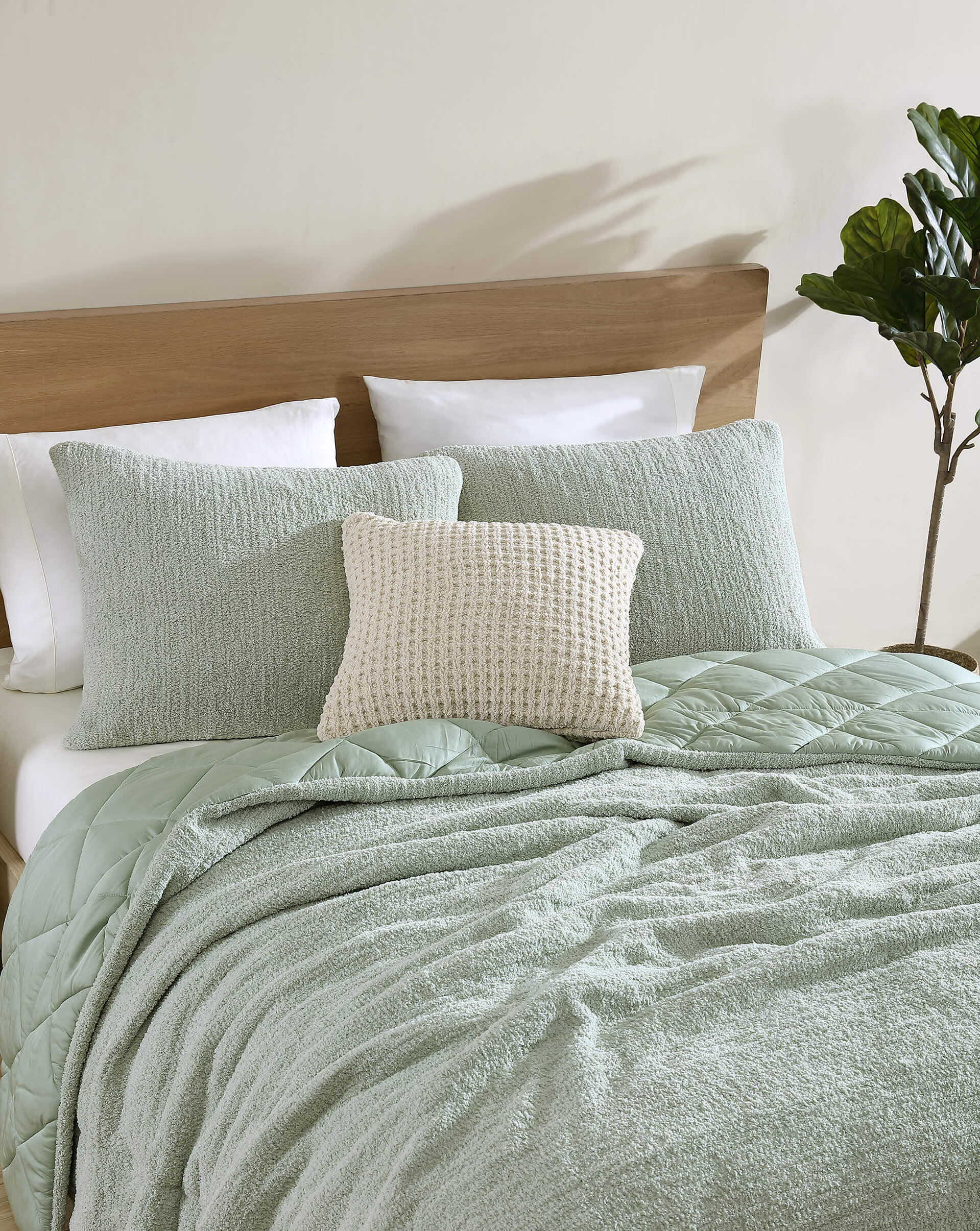 What Are Some Of The Most Frequently Asked Questions Around Pillow Shams?
Question: Can I sleep on a pillow sham?
Answer: Yes, you can sleep on a pillow sham, however, it's not advisable. Although shams are soft and fluffy, they may not be as comfortable as regular sleeping pillows to have a lie-in. The fabric may be too textured, the frills too big, or the material might bunch up while sleeping.
Question: What pillows or fillings do I use for my shams?
Answer: Whether you want to opt for a pillow or a filling depends on the utility that you're assigning to the sham. If you're on a budget or trying to be more sustainable, you can use your shams with your regular pillows of the same size. But, if you want to create exclusive throw pillows using shams inspired by the Versailles Throw Pillow, you can opt for a feather filling. It is an affordable and long-lasting material that holds its shape very well.
Zhuzh It Up With Shams!
When you need to revamp your bedding or rejuvenate your pillows, Snug Sham Sets are the way to go! These sustainable and multipurpose pieces of bedding are ideal if you're looking to add that touch of panache to your living space without compromising on its luxe and plush feel.