So, you've decided to invest in new bedding. Good for you! That's one self-care move you will definitely NOT regret. Better bedding means better sleep, and better sleep has an incredible amount of positive knock-on effects, both mentally and physically. 
Now you've made your decision, it's time for the next step - deciding on and sourcing all of the components for your dream bed. Creating the perfect atmosphere for high-quality sleep is something to get excited about, but we'd forgive you for feeling slightly overwhelmed, too! There are just so many options and different terms used in the world of bedding nowadays; it can make it hard to know where to start.
Let's pick out some bed covers
One of the most important elements to select (and don't be afraid to be selective!) is whatever you choose to cover you as you sleep – the top layer to your bedding cake, if you will. There are various bed cover options on the market, with comforters, blankets, and duvets being the most common. The main difference between them? Comforters and blankets are an all-in-one cover solution, whereas duvets consist of two elements – the duvet itself, and a duvet cover, which is what actually comes into contact with your body as you sleep.
Today, we're here to dive deep into the world of duvets. What exactly is a duvet? What is it used for? What material options are out there, for both duvets and duvet covers? And so on and so forth. Let's get to it.
A simple definition: A duvet is essentially a soft, flat, often quilted blanket that is filled with either natural or synthetic fillings for varying degrees of fluffiness and weight. Examples of such fillings could be down (or synthetic down alternatives), feathers, cotton, polyester, silk, and even wool.
Duvets are typically protected by a duvet cover. Think of it like the relationship between a pillow and a pillowcase - you need both to have a full set. Duvets are sometimes referred to as "inserts" for this reason, as they are inserted inside the duvet cover.
Duvet Fillers – what to consider
As mentioned above, there are many options when it comes to duvet filler materials. When you're picking out the right one for you, try to consider factors such as what feels most comfortable to you, how much weight you like to sleep with, and whether you suffer from allergies to certain kinds of materials. 
If you do suffer from allergies, from example, it's important to find an easy clean duvet option, so that you can easily wash away any irritating dust that may build up over time. It's also a good idea to look for fairly natural materials in this case, and avoid any harsh chemicals.If you enjoy the sensation of a heavier weight or pressure on you as you sleep - many people find this comforting – you'll want to pick a denser, heavier filling and cover. You may even want to consider a weighted blanket if you find you really love it; nothing beats that extra snuggly, cocooned feeling.
Whatever duvet filling you choose, just remember that it should be evenly distributed throughout the duvet to ensure maximum comfort and an even, gentle weight exerted on the body. Fun Fact: This is actually the reason why so many duvets are quilted. The quilted pattern, technically referred to as "baffle box stitch", allows a uniform amount of filling to be stuffed into each square of the duvet, as well as trapping in additional air to produce maximum fluffiness.
Tips for inserting your duvet into its cover
If you've owned a duvet before, you can probably identify with the struggle of trying to get your duvet back into its cover after washing. Do it the wrong way and you'll end up with lumps and bumps in some places and no duvet at all in other areas! Definitely not our idea of comfort.
But never fear! We've got a trick up our sleeve to help you out with this one. The key to easy-peasy duvet inserting is, first and foremost, to turn your duvet cover inside out. This step is key to a seamless experience. Next, lay your duvet flat out on the bed, and match up the top corners of your inside-out duvet cover to the top corners of your duvet, with one laid on top of the other.
Gradually work your arms and hands up inside the inside-out duvet cover, all the way to the top corners, and once you get there, pinch these together with the top corners of the duvet underneath. Then simply lift them both off the bed and shake, shake, shake, making sure to keep a strong hold of the top corners throughout, until the duvet cover has flipped the right way round again and is covering the entire duvet. Feel free to fluff and adjust a little at the end, et voila! With a couple of practices, you'll be getting this done in no time.
Let's have some fun. One of the best parts about the duvet-duvet cover dynamic is the freedom it gives you to be creative – you can switch out your duvet covers whenever you feel like it, all while keeping your favorite fluffy insert throughout. You can choose specific colors based on the season, patterns based on your mood, or just keep a few covers on constant rotation to experiment with your bedroom styling and have some fun!
You're Hot and You're Cold. Not only is there the option to switch things up aesthetically, but you can also select different duvet cover materials based on factors such as the time of year or whether you're a hot or cold sleeper.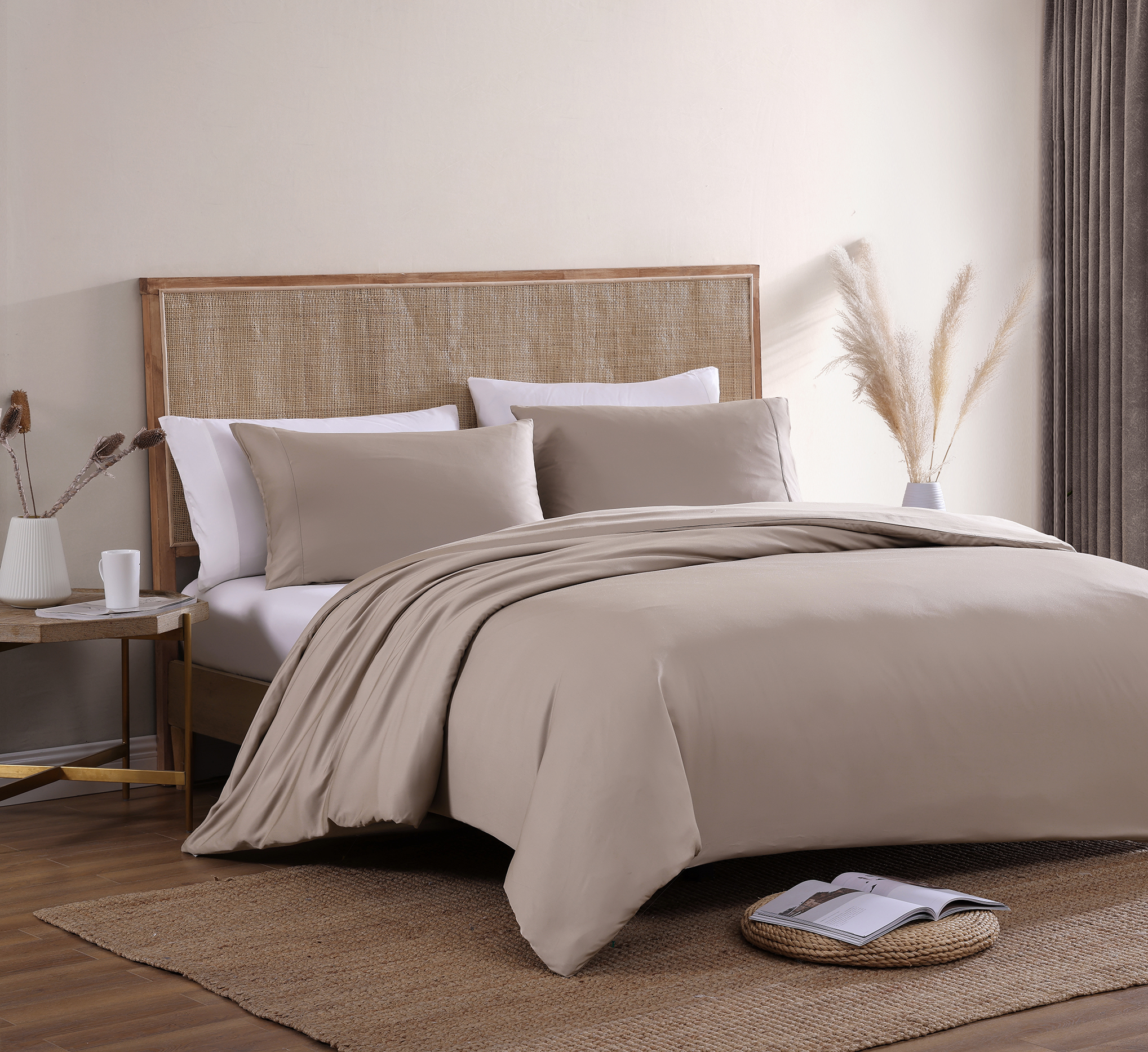 Take Sunday Citizen's duvet cover options:
Our Premium Bamboo Duvet Cover, made from one of the most sustainable plants on the planet, is a buttery soft, breathable and cooling option, naturally thermoregulating to keep your body temperature just right. The eco-friendly viscose fabric that comes from bamboo is hypoallergenic (easy on all skin types) and antibacterial, meaning you get that "clean sheets" feel night after night, after night. In one word? Heavenly.
The Snug Bamboo Duvet Cover provides what we like to refer to as the best of both worlds. If you're looking for a little more weight and a little more snuggle in bed, this one's the one for you. Our revolutionary two-sided duvet cover features our signature, dreamily soft Snug microfiber blend on top, and smooth, cooling bamboo fabric underneath, replacing the need for a flat or top sheet. Depending on your mood and desired sleep temperature, you can choose to nuzzle into whichever side you like while you effortlessly drift off to la la land.
Duvet Sizing Options
In much the same way as other bedding items such as sheets and comforters, duvets and duvet covers are generally offered in a variety of sizes, with the most common being Queen and King. Not sure which size to go for? If you're stuck between two options, we always recommend sizing up rather than down. There's nothing wrong with a little extra coziness and a duvet that drapes over the side of the bed. There IS something wrong, however, with being left in the cold when your covers-hogging partner wins the battle for the duvet in the middle of the night. We don't want that for you!
Do I Definitely Need A Duvet Cover?
Just as you wouldn't use your pillow without its cover, it is most definitely recommended to use a duvet cover on top of your duvet, for a number of reasons. Using your duvet without a cover can lead to issues like bad odors and lack of cleanliness, because the duvet itself is more likely to absorb dirt and bacteria, and is more difficult to wash.
On the other hand, a removable duvet cover makes it oh-so-easy to keep everything hygienic, especially if the cover is machine washable. Who's got time for hand-washing or dry cleaning your sheets nowadays!? We know you're too busy for that. That's why all our duvet covers not only survive but thrive in the washer and dryer. You won't believe how soft they come out.
Last but not least… TOG Ratings
When you're shopping around for duvets, whether it be online or in store, you may encounter the phrase "TOG rating". Confused? We don't blame you. Let us explain. TOG is an acronym that stands for Thermal Overall Grade. Essentially, it's a scale commonly used for rating the level of insulation of an item of clothing or bedding, ie how warm the item will keep you while you are using it. Pretty useful, right?
The higher the TOG rating, the warmer the garment or bedding item. Duvet inserts with high TOG ratings are, therefore, preferential for the winter season, if you live in a cold country, or if you are a cold sleeper, whereas duvet inserts with a low TOG rating are best for hot sleepers or the summertime.
And there you have it! Duvets, explained.
Happy shopping, Citizens.