Unless you're hidden under a rock, you are well aware that sleepwear is the hottest trend to hit the pandemic era. Loungewear that you can wear beyond the bed— and straight to a Zoom meeting.
This loungewear trend has led to the newest fashion breakthrough. There are various types of loungewear but one of our favorite is the washable silk slip dress. A tribute to the 1990's slip-dress craze, this bold, and innovative trend has made an exciting comeback and is going viral— fast!
What Is A Washable Silk Dress?
But, wait! What is a Washable Silk Dress?
When a brand advertises "washable silk dress," they mean luxury material that can be used as casual, everyday wear.  Think of the slip dress— an undergarment, or a camisole, that you wear underneath your dress or skirt. Now, imagine a slip dress made of silk being worn to the park and paired with sneakers and a denim jacket?
Yes, that is called a washable silk dress— versatile and all-purpose. You can refashion it as formal wear, honeymoon wear—  or even trip-to-the-grocery wear. Anything goes!
Washable Silk Dress Styles
Washable silk dresses come in different lengths:
Mini (short) Washable Silk Dress
Midi (medium) Washable Silk Dress
Maxi (long) Washable Silk Dress
They can also come in different cuts, necklines, prints, colors— but one distinct feature remains: it's made of silk.  And, take note- silk is washable— and we mean, machine-washable. Other washable silk dresses also come in wrap-style.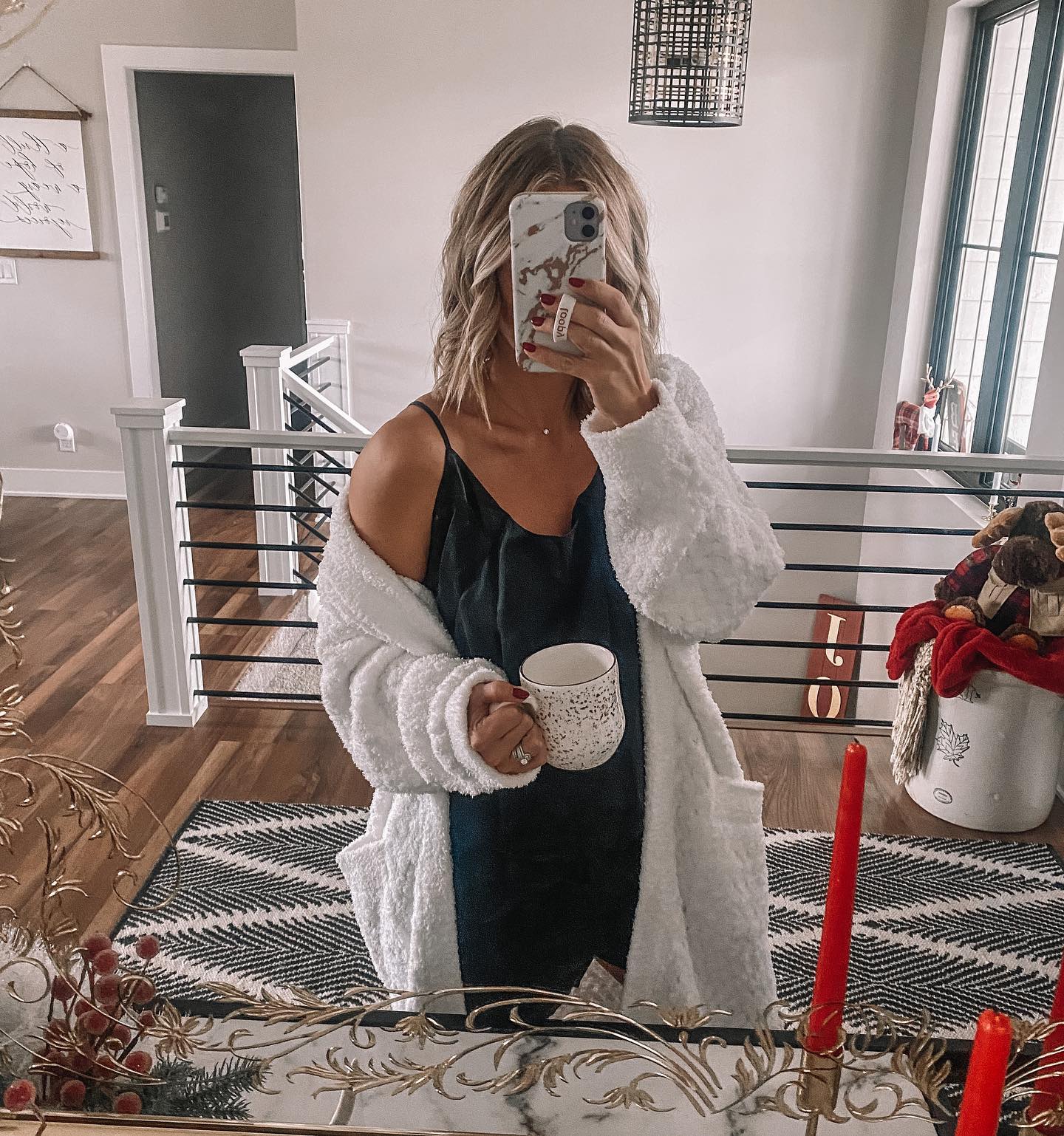 Photo Credit: @amidwesternmix
How To Use A Washable Silk Dress
The brilliant thing about washable silk dresses is that it can suit every woman. Regardless of your height, shape, size, or age, you can look great on it! Here's how to rock your washable silk dress indoors and outdoors. Here are the 21 ways to wear a Washable Silk Dress Indoors and Outdoors.  
21 Ways to Wear a Washable Silk Dress - Indoor Styles
Who says you can't look nice indoors? Here are some ideas on how to jazz up that washable silk dress, and strut with style within the four corners of your home!
As Is:  Inside your home, you can wear your washable slip silk dress as it is. No embellishments. Just sheer sexiness!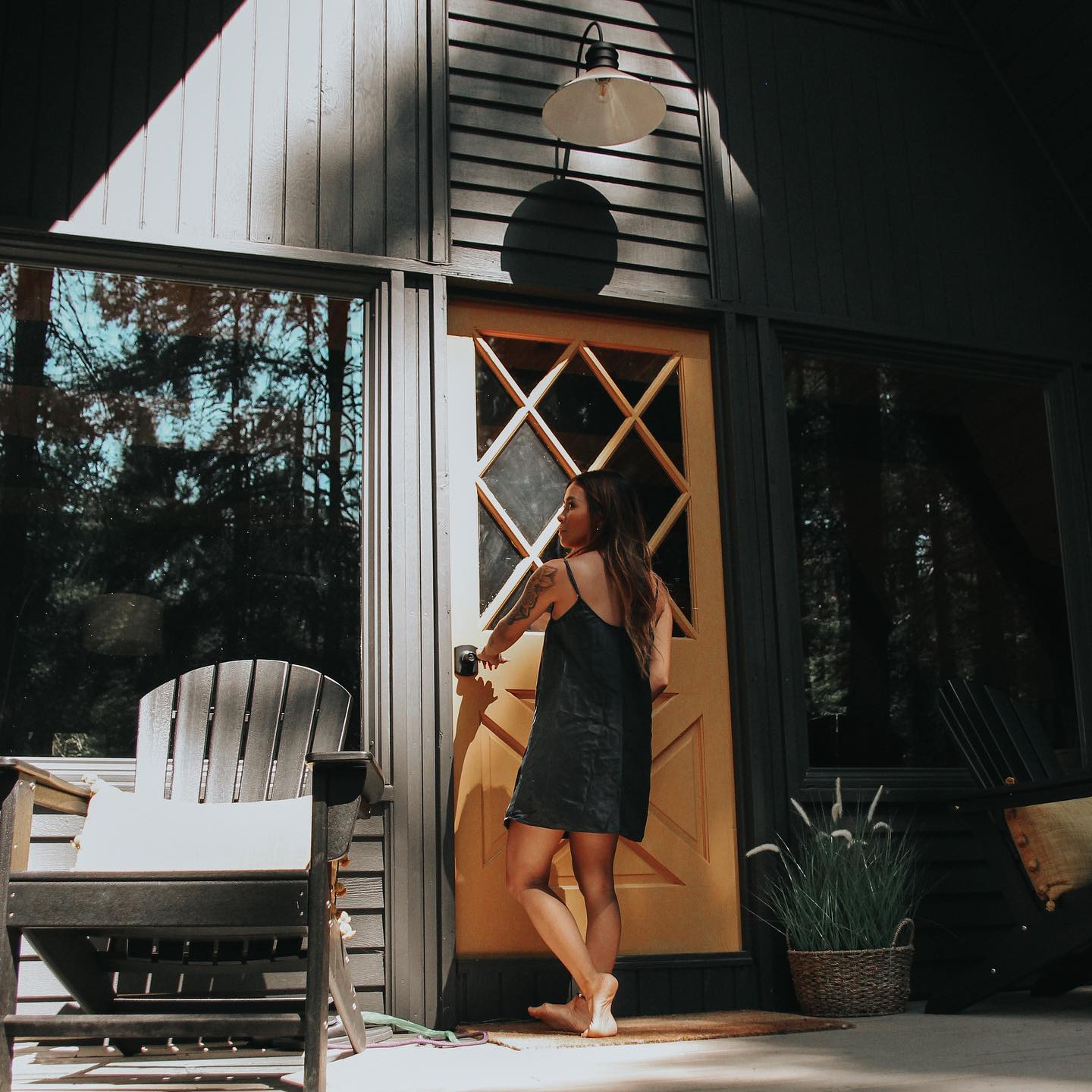 Photo Credit: @livingwithjackie_
Pair With Shorts: Match it with a pair of shorts— whether it's the same color and material—or not. Let's say you have a deep maroon slip dress. You can pair it with cotton plaid shorts or black silk shorts, and even cycling shorts. It's up to you whether to tuck it in or not. It's the perfect casual getup if you're just lounging around, cooking, gardening, or taking care of the kids. 
Pair With Blazer: If you're attending a corporate Zoom meeting, upgrade to a power look by layering your slip dress with a blazer— whether it's a long-line blazer or a cape blazer. Think "corporate-sensual" hybrid. Glam up that hair by making a neat chignon, a low-classy ponytail, or perfectly styled untied hair. Pair with accessories and apply makeup— you're all set for a formal video call!
Pair With Jogging Pants: Whatever length your slip dress is, tuck it inside a pair of jogging pants for a super comfy look inside your home. Even if you're just inside your house, make yourself feel good by picking out colors that match, like a black slip dress and grey jogging pants; or a white slip dress and beige jogging pants. You can even get monochromatic!
Pair With Pajama Bottoms: Wear that pink mini silk slip dress with pajama bottoms just because it's cute. Opt for printed pajama bottoms to cheer you up. Wouldn't a navy blue mini silk dress look cute with pajamas with little panda bears all over it? Or go for the mature look— elegant black-and-white striped pajama bottoms to go with your mini fire-engine red silk dress. You can very much wear this on a Zoom game night with your girlfriends! Or, at a casual online date.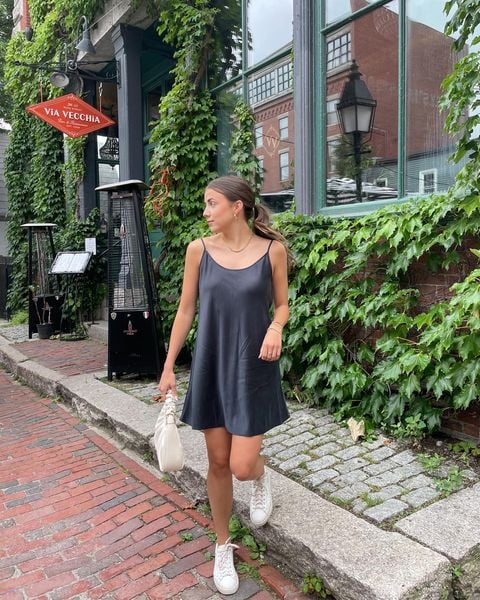 Photo Credit: @livingwithjackie_
21 Ways to Wear a Washable Silk Dress - Outdoor Styles
Whether you're headed for a dinner date, to the bank, to the mall— or to a formal event, here are some tips on how to wear your washable silk dress outdoors and completely turn heads!
Going Out: Silk Dress on its own paired with simple gold jewelry a black handbag and a kitten heel. No establishments.  Just sheer sexiness!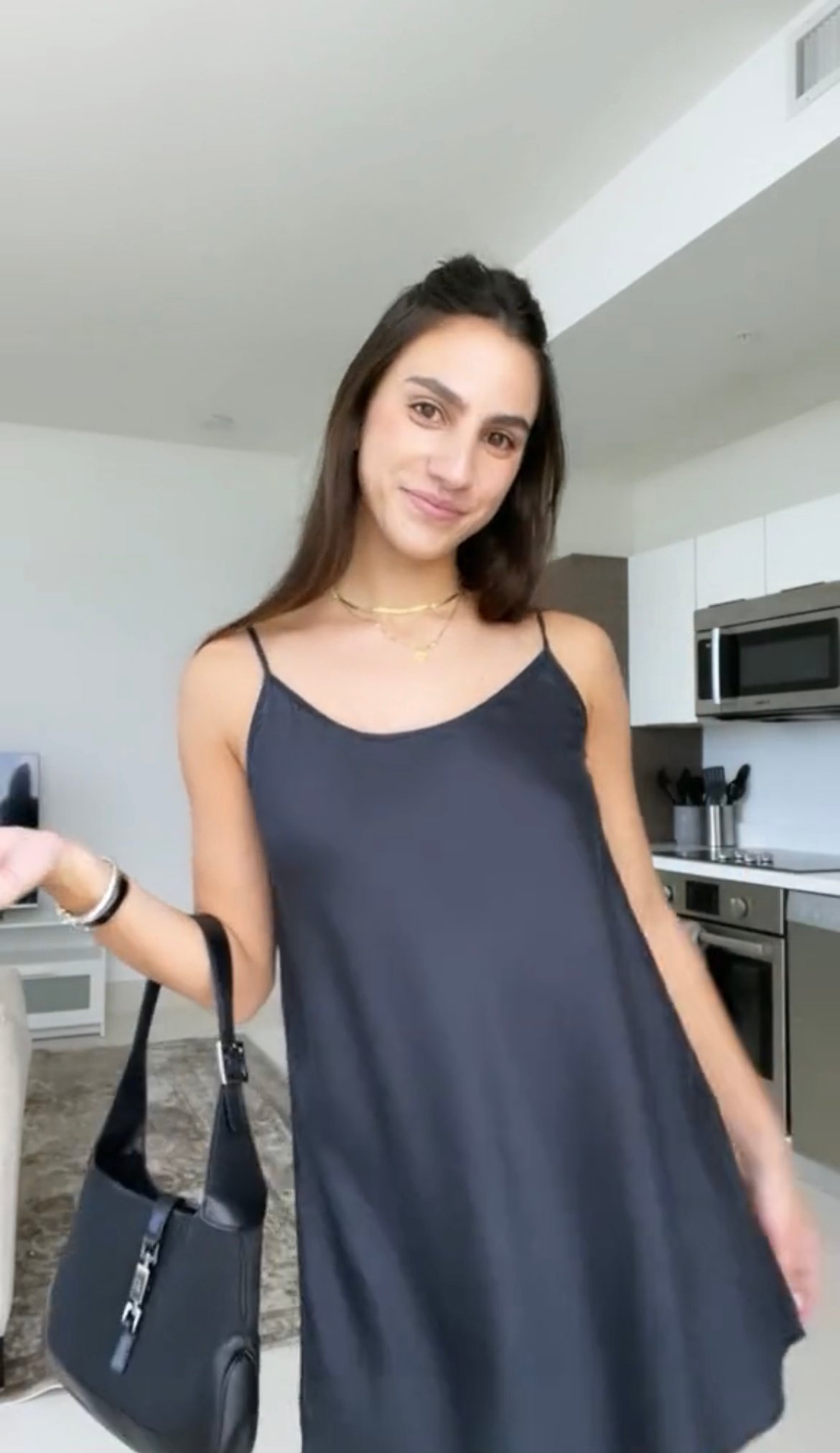 Everyday Look: Go for sexy casual-chic by wearing a mini black silk dress tucked in over skinny jeans. Better go for black jeans to achieve that sophisticated monochrome look. Make your overall look super cute by adding a simple white baseball cap and sneakers! Then, pair with black stilettos, or flats. Accessorize with  a gold chain necklace, a leather bag, and a nude lipstick. Wear your hair down for that feminine touch.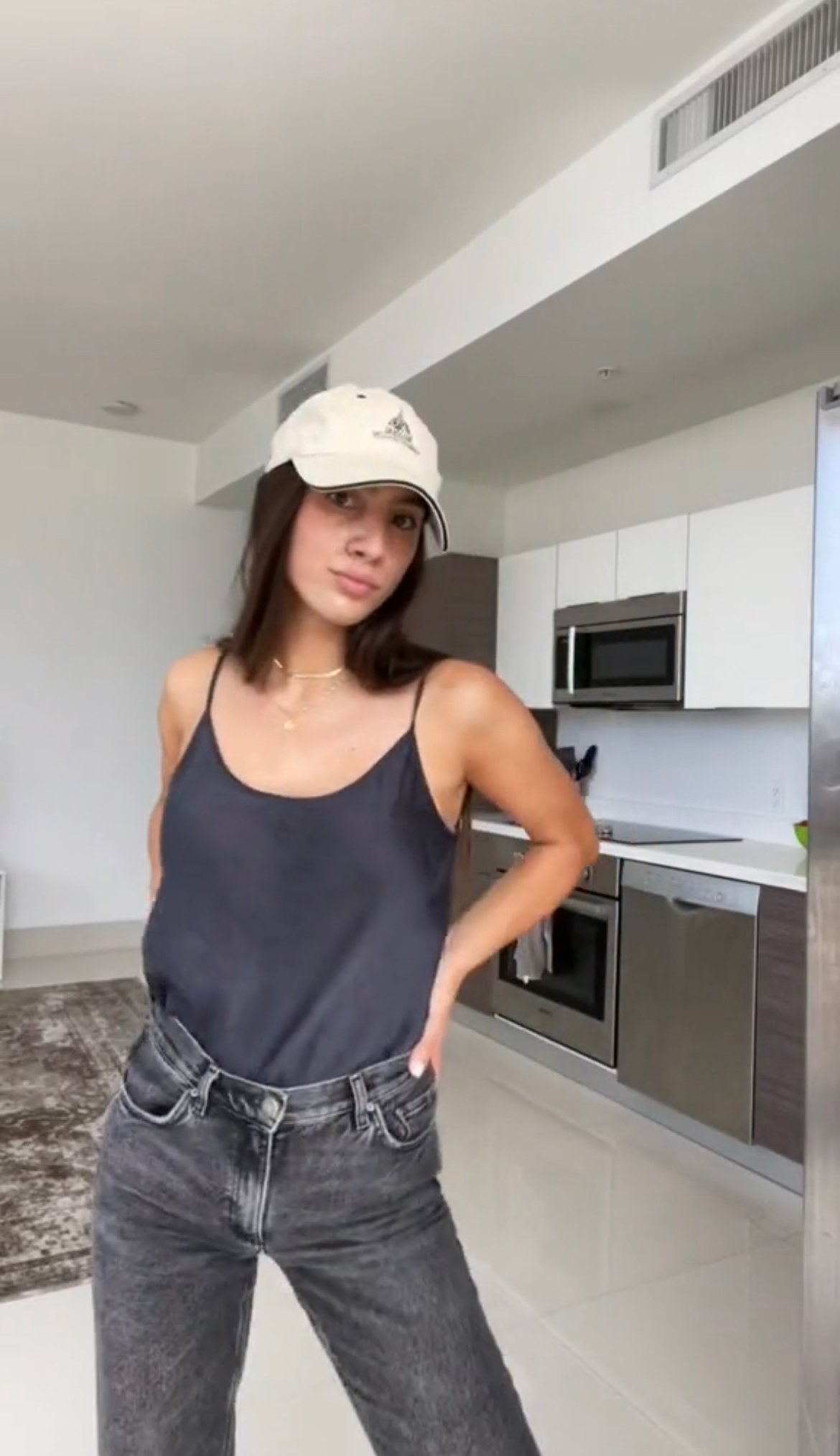 Belted Look: Perfect for maxi silk dresses. Whether it's solid in color, or with prints, cinch your waist with a wide belt. If your silk dress is floral, go for a wide leather belt for that bohemian look. Pair with flat sandals and an ankle bracelet, or knee high boots. Then top the entire look with your hair in beach waves, with wide gold hoop earrings visible.
Lunch with the Girls: For a more casual look— without showing too much skin— wear your  black mini silk dress over a white fitted shirt. Add a little glitter by wearing a simple gold pendant. necklace. Go playful with your hair by doing low pigtails and a black "baker boy cap" for a Parisian. For shoes, go for a heeled black bootie and a handbag.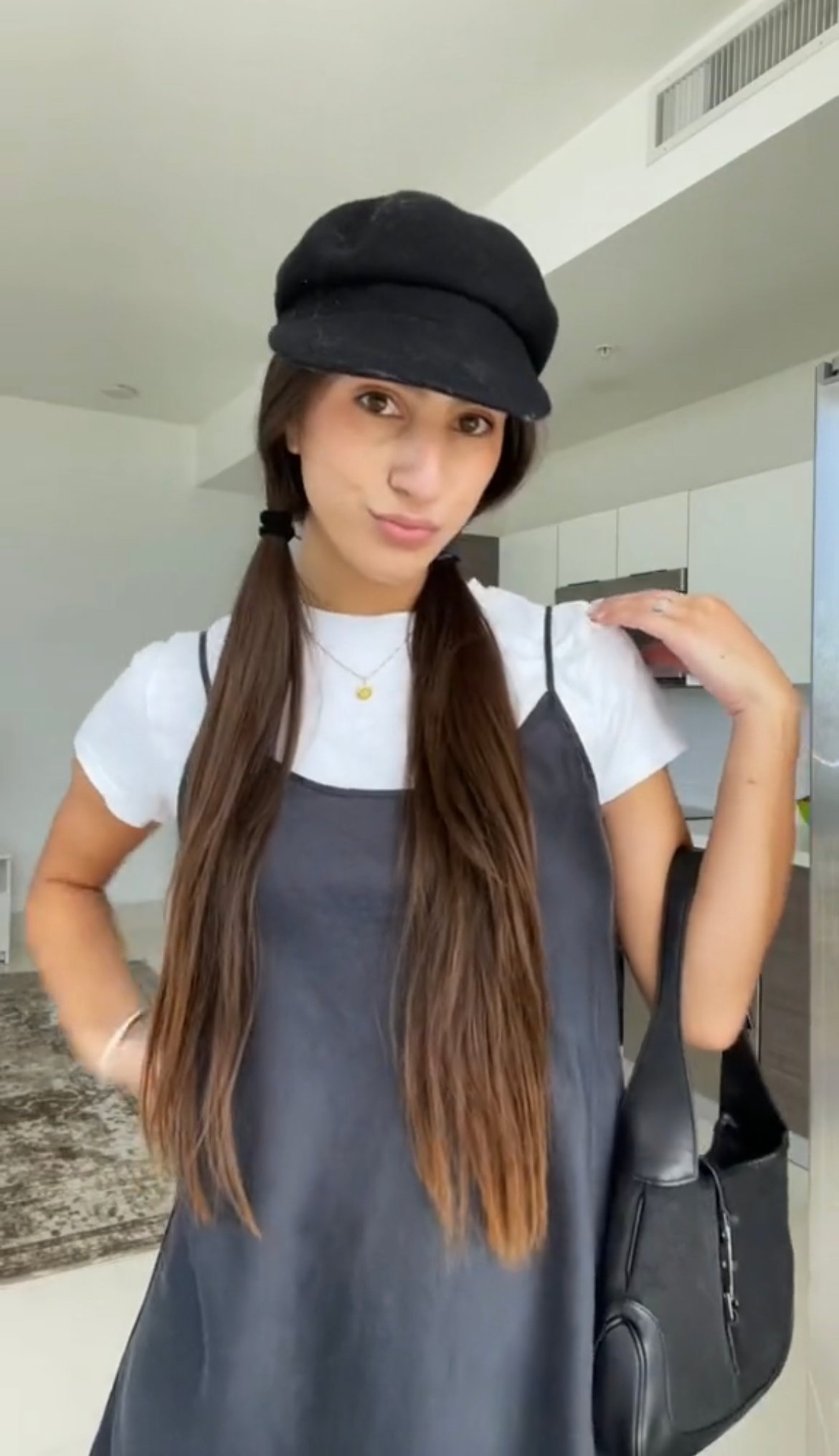 Shopping Look: For casual wear in the fall season, why not pair your short silk dress with a cropped black sweater worn overtop of the silk dress to give the appearance that it is a skirt? Monochromatic and sexy, add some glam to your OOTD by wearing a pair of round-shaped sunglasses! Go with a black purse, a tall leather black boot and sunglasses. Wear your hair sleek and shiny, and your makeup au natural!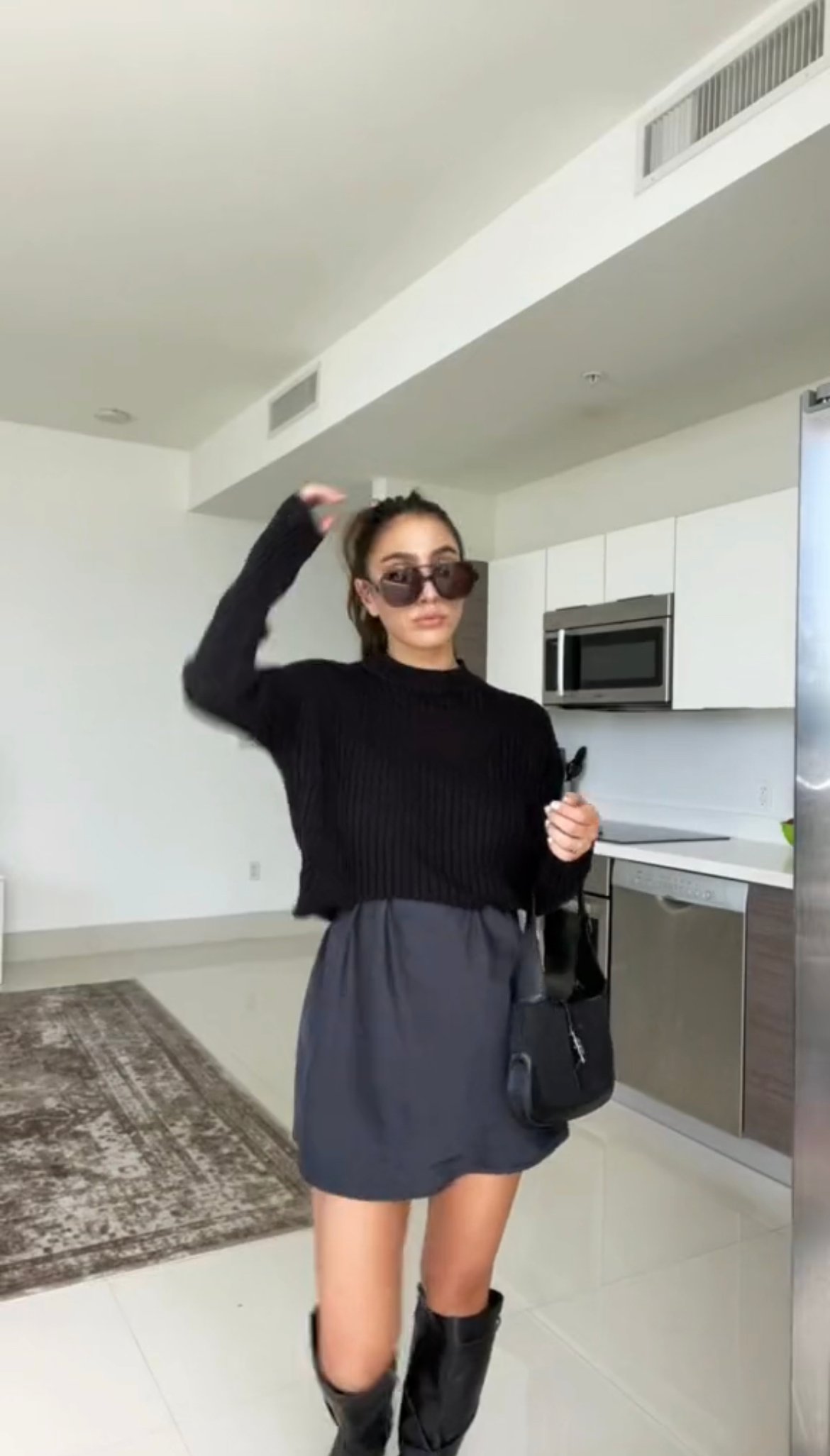 Sexy Look: For a formal event, or an elegant gathering, simply slip on your silk dress. Complete the look by strapping on sleek open-toe high heels. Because you're going for "sexy and sophisticated," pick a washable silk dress that has a lighter color— champagne, rose gold, or muted gold. Accentuate with a  necklace— whether it's a simple gold chain, a gold layered choker, or a chunky necklace with large stones. Then pull your hair in a messy bun.
Happy Hour Look: Go for the alluring combination of laid-back and sexy. Or, glamourous on top but sweet and approachable on the bottom. How? By wearing that perfect pair of wide-leg white pants. Simply slip on a pair of white harem or palazzo pants over your black silk dress. Pair with a nice set of sneakers. Let your hair down naturally, put a little lip gloss, and accessorize with a simple choker necklace and a bracelet. Adorable!
Long Blazer Look: Simply slip on a dark and long blazer over your mini silk dress. You can opt to roll the sleeves of your blazer up to your elbows. Slap on a pair of shades, and let your tousled hair down. For footwear, go for formal flats— preferably snakeskin, or alligator skin, with matching bag and shoes. Go for very minimal jewelry.
Denim Shorts Look: Tuck your mini washable silk dress in sexy, short denim shorts. Pair with any of the following footwear: flats or baby-doll shoes, sandals, flip-flops, ankle-boots, knee-high boots, or stilettos. No jewelry needed. Simple, relaxed, and chic!
Long Coat Look: A long trench coat would look great on a long washable silk dress. So go for your maxi silk dress. Don't go monochromatic; instead, make the color of your silk dress pop. If your trench coat is dark, go for a luscious colored silk dress— like burgundy, purple, or blue. Or you can get playful and wear a black maxi silk dress and neon-colored trench coat. The trick here is light-and-dark contrast. A pair of strappy open-toe heels will complete this posh look!
Leather Biker Jacket Look: A maxi washable silk slip dress paired with a black leather biker jacket. This spells "rocker chic," with sexy undertones. Play up the exciting textures by picking a slip dress with lace on it— feminine on the inside; tough biker chick on the outside! Wear black leather ankle boots and silver earrings to complete the look. Make sure you wear your shades!
Turtleneck Sweater Look: Wear a solid-colored turtleneck sweater with your midi or maxi washable silk dress. The sweater can be worn outside or inside your slip dress— either way it would look great. For midi-length, go for high-cut Converse shoes or ankle boots. For maxi dress, go for something more formal, like suede heels.
Long Cardigan Look: Go for the cozy casual look by partnering your midi silk dress with a long cardigan. Then contrast this soft, feminine look by wearing statement boots, like ankle leather boots. Top it all off with a simple and thin gold necklace and neutral makeup. This look is perfect for a lunch out, or an office meeting.
Spaghetti Strap Look: Strappy shoulders, why not? Underneath your slip dress— whether the length is mini, midi, or maxi— wear a spaghetti strap, form-fitting top. It would be better if you make the attire monochromatic. Shoes can either be formal (like stilettos) or casual (like sneakers)-- depending on the occasion. 
Scarf Look: A maxi dress with a scarf around the neck for that approaching-fall look. It echoes femininity, warmth, and sultriness. You can go for a long scarf, or a mini scarf that simply accentuates your long neck. Match it with a straw hat and pair of sunnies. Pick low-heeled open-toed sandals. Ultra chic!
Elegant Long Black Dress: The amazing thing about a black maxi washable silk dress is how it can be so versatile. You can wear this to a formal event by wearing heels, or to the supermarket by wearing flip-flops. For a formal event, you can even add a cape blazer— but better make it black as well. Add tiny studs of jewels to your earlobes. Simple, posh, and confident!
Final Thoughts on Wearing a Washable Silk Dress
The washable silk dress, with its retro comeback, is proving to be a timeless and versatile piece of clothing. This will not go away any time soon, what with the unlimited styles you can recreate out of it.
The trick here is to be bold, adventurous, and innovative. Try articles of clothing from your wardrobe and try it on your slip dress. It's easy to get obsessed with washable silk dresses, so if I were you, get various colors and lengths, and get inspired!

Check out our TikTok for more slip dress inspo!