Have you ever gotten confused between a comforter, duvet, and a blanket? Are you unsure about which filling to opt for and different inserts? Do you want to know the right way to wash your comforters? If you're on the hunt to find answers to these questions, you've come to the right place.
We, at Sunday Citizen, have put together a comprehensive guide on comforters to help you make the right choice. This overview has been curated to help you find the perfect comforter to improve your bedding experience!
What Are Comforters?
Essentially, comforters are layers of fabric sewn together on all sides creating a large pouch. They are usually filled with synthetic fibers such as polyester and microfibre or natural materials like wool, down, and cotton. Sunday Citizen's comforters are filled with recycled PET plastic bottles. Each comforter uses 50 bottles - which means 50 less bottles in our oceans. 
Comforters have quilted patterns to ensure even distribution of the filling, and they're also stitched through the ends to prevent the material from spilling out or lumping together. You see, in the case of comforters, the quilted stitching is to facilitate optimal functionality and not necessarily to enhance their aesthetic appeal.
How To Choose The Best Filling For Your Comforter?
A key point to note is that the fill power of comforters is lesser than that of duvets. But, comforters can vary in size depending on their filling and their GSM (grams per square meter). Opting for a comforter with a higher GSM will allow you to have warm, and heavy bedding. Additionally, the material of the filling also plays a crucial role in dictating its overall feel. 
For instance, being a breathable fabric, cotton is the ideal choice. It is lightweight and hypoallergenic allowing your comforter to keep you snug through all seasons. If you're looking for a comforter to keep you toasty through chilly nights, opt for one with insulating fillings such as wool or down. Synthetic fibers are also excellent at trapping heat but bear in mind that they're not as efficient at wicking away moisture from your body.
A comforter made with down filling is a fantastic investment. In addition to the high-quality and luxe feel, they offer greater warmth and fuzziness. If you have a flexible budget, you can also go ahead with silk comforters. They offer a plush feel and the ultimate sense of comfort while being breathable and hypoallergenic. 
Our Sunday Citizen Snug Comforter, Snug Basketweave Comforter, Snug Waffle Comforter and Woodland Comforter have an ethereally soft snug fabric on the top side and natural viscose from bamboo on the skin-side. These down alternative comforters don't just look like a cloud, they are also thermoregulating, hypoallergenic and super nice on your skin. You can wash it as much as you like and they will stay radically soft forever. 
Before you make the purchase, check the nature of the filling you're opting for. Natural fibers like wool and down are potential allergens while synthetic materials are less absorbent.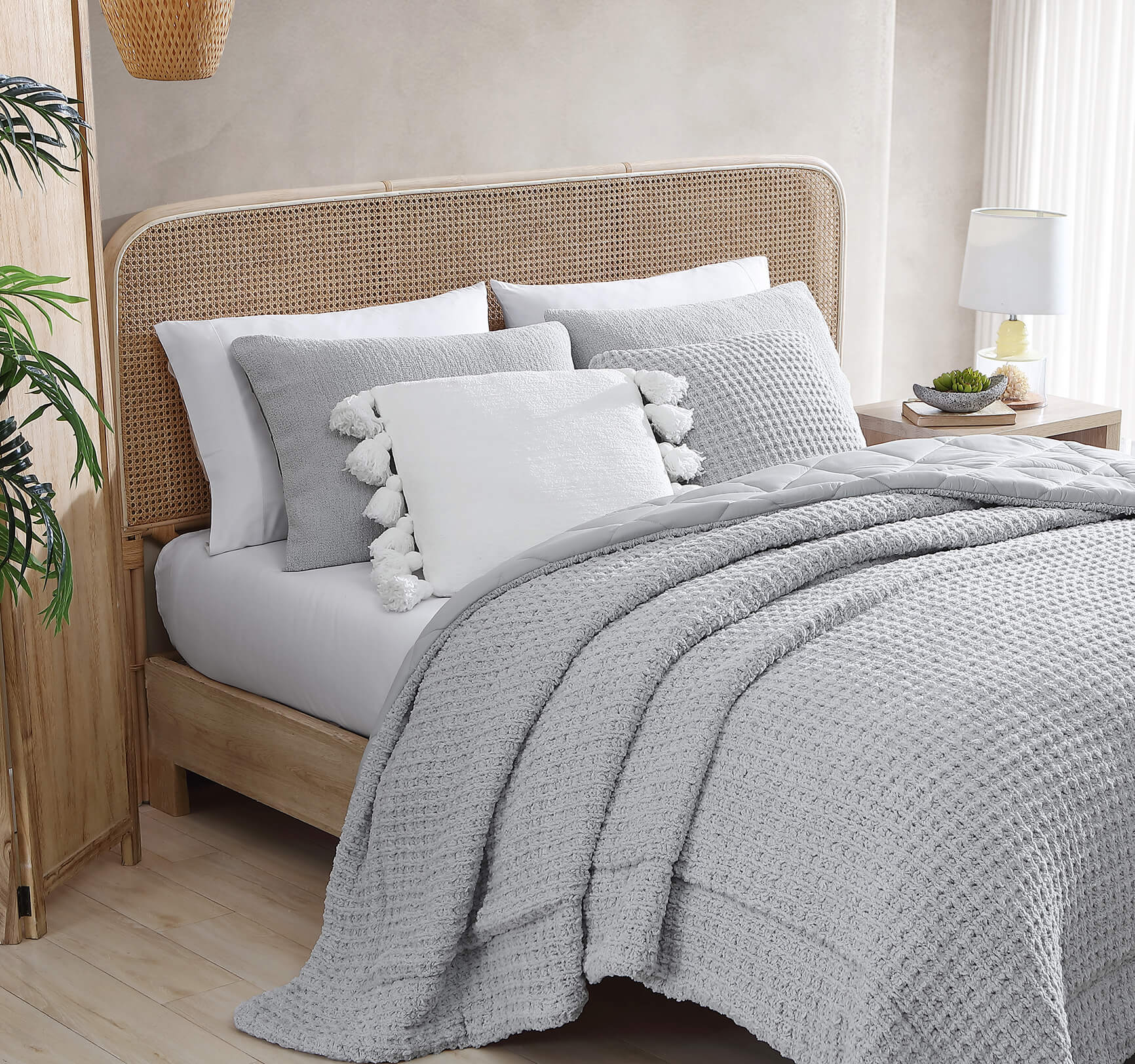 The Pros Of Opting For Comforters:
Comforters are one of the most versatile bedding options out there in the market. You can always rely on them to cuddle with or add a pop of color to your space. Here are some reasons as to why you must pick a snug Comforter right now!
1. You Can Use Comforters Straight Out Of Your Shopping Bag

One of the most convenient features of comforters is that they are ready to use since they don't require separate covers. 
2. Comforters Are Ideal For Quick Layering Of Your Bedding

You can always bank on comforters for adding more layers and introducing textures on the go. This is especially helpful since comforters are designed to be the topmost layer in your bed that hangs over the side of the mattress.
3. You Can Style Comforters Easily To Amp Up Your Space

Comforters come in a variety of fabrics and different patterns. This means that it requires almost no additional effort to zhuzh them up. You can also use them to introduce new patterns or add bolder colors. They are great means to express your sense of style and let it reflect in your living space. 
4. You Don't Need To Purchase Additional Bedding

Many comforters are available in matching sets along with sheets and pillow shams. Such sets allow you to have a cohesive theme running throughout your room making them convenient and cost-effective bedding options in the long run.
5. The Built-In And Sewn-Through Filling Makes Them Long Lasting

Since the filling in comforters is fully enclosed and sewn through the fabric, it doesn't spill out or clump up easily. It also gives them a more plush and fluffy feel while ensuring that you stay warm and cozy in your bed. In fact, Sunday Citizen's are thermoregulating, meaning they keep you cozy, never sweaty. 
A Few Drawbacks Of Comforters You Need To Be Aware Of:
Just like every bedding, comforters, too, come with their cons. Here are a few drawbacks that you need to know before investing in a comforter.
1. Their Massive Sizing Makes It Challenging To Clean Them

Sometimes the comforter's size can be too big for the washing machine or they sometimes aren't machine friendly. Good news - our comforters are fully machine washable. 
2. Comforters Are Larger Style Commitments

If you're trying to incorporate a new theme into your room, you can't hide your comforters in trendy covers. Since they're retailed in large sizes, it could be quite challenging to find a cover or shell that could go over them. Before making the investment, be sure of the design you're opting for and reflect over the choice to see if you will be able to style it with other pieces all year round. 
3. You Can't Replace The Filling Inside The Comforters Easily

Since you cannot replace the filling of comforters, you are committed to the weight and feel of it. 
Frequently Asked Questions About Comforters:
Q1. What Is The Difference Between Comforters, Duvets, And Blankets?

The primary difference between these forms of bedding is their build. A blanket is a single layer of fabric, typically wool or fleece, that is thickly woven to form a covering. On the other hand, both comforters and duvets are pieces of material that enclose filling, making them plush and cuddly. A duvet has an additional insert that can be removed easily from its cover. On the other hand, the filling in comforters is fully sewn-through and cannot be replaced. 
Q2. Which Bedding Option Is The Warmest?

While all forms of bedding offer a great deal of warmth, duvets and comforters have the highest degree of insulation. Their thermogenic property is a direct consequence of the fibers used. Thus, you can opt for different material combinations and customize them to suit your needs.
Q3. How Often Do You Need To Wash Your Comforters?

Washing your comforter is based on preference. We recommend cleaning your bedding once a week. 
Q4. How Do I Wash My Comforter At Home?

If you have a smaller comforter, you can wash it at home. While doing so, always set the machine to the lowest spin. It prevents the filling from spilling out or clumping during the wash. To dry it, you'll have to use a low heat setting and make sure the filling is warmed up evenly. 
A pro tip would be to place dryer balls or weighted objects like tennis balls so that the filling is even and to avoid any potential clumps. But, if you still see that the fibers are bunched up, don't worry. A hearty shake will redistribute the material and soon enough, you'll have a plush comforter again!
Finding The Ideal Bedding To Invest In
Every piece of bedding comes with its own set of benefits and drawbacks. At the end of the day, you have to gauge the pros and cons and make choices that suit your needs the best. A good rule of thumb is to opt for comforters if you want something simple, cozy, and easy to layer. Comforters are also convenient and versatile options if you want your bedding to have a fluffy and overall plush feel. 
To shop for the right comforter that can elevate your bedding experience, check out our comforters and find your perfect match and find your perfect match!