We've talked about different types of bedding materials and all the different sizes of beds, but we've seldom touched ground on the many ways you can actually make a bed.
As a good one-third of your day is spent in bed, so it is important to do your research to find one that's custom-fitted to your needs. To save you the trouble of browsing through the staggering number of bed types, we've formulated a guide with the best bed types to complement every style. Allow us to walk you through them.
A Guide to Bed Types: Design Edition
Platform Bed
Platform beds have a raised, level, horizontal solid frame for a base. They also come with a section of flexible slats or a latticed structure that is strong enough to support the weight of the mattress without requiring bulky boxsprings for further foundation. The platform serves to give the mattress ample ventilation to avoid mold and mildew buildup. 
Folding Bed
A folding bed is as convenient as it can get. As these beds have a hinged frame that can be easily folded and put in a closet or converted into a sofa when not in use, they occupy less space in the house. The best thing? They do that while offering users optimum comfort for sleeping. They're best used in small spaces and rooms that serve dual purposes, for example, guest rooms. 
Panel Bed
Panel Beds are available in two formats: one with a headboard and footboard joined by rails of wood and one with just a headboard. The panels are framed with raised molding or grooves and are available in painted and wood-stained finishes. The base is made with wooden panels that increase breathability and are strong enough to support the weight of both the mattress and the mattress foundation. 
Sleigh Bed
Sleigh beds are constructed with a headboard and footboard with curved or scrolled designs. This gives them the appearance of a sleigh. Luckily, the sleigh beds come in a range of finishes to complement every type of interior decor. While heavy wood dominated their construction originally, nowadays, materials like aluminum, iron, and steel are incorporated in the construction, too. While this certainly adds sturdiness to the furniture, it takes away its standard exaggerated curves.
Murphy Bed
Murphy beds, also called pull-down beds or wall beds, have a hinged frame construction on one end. This allows users to fold the bed into walls or vertically store it in the closet or cabinet after use. They're available with a range of nightstands and shelves built around them for maximum storage use. They make great space-savers.
Trundle Bed
Usually considered a pair of beds, the Trundle beds have a standard bed frame below which there is another frame on casters that makes up for the second bed. This type of bed with high headboards and no footboards can easily accommodate three people without taking up additional space in the bedroom. It's best used in kids and teen bedrooms.
Adjustable Bed
An adjustable bed has a motor with which you can raise or lower the bed into several sitting or reclining positions. These types of beds are generally used for medical reasons. You can raise the head or the feet of the bed with a remote handset or a controller to help relieve pains and stress and give your body the support and comfort it needs.
DayBed
The daybed is incredibly versatile. It is used for resting, lounging, sitting, reclining, and seating purposes during the day and as a bed by night. It has wooden or metal frames and is generally considered a cross between a bed, a couch, and a chaise lounge. It comes in a variety of shapes and sizes and is most commonly found in common rooms and home offices.
Poster Bed
Poster Beds have 4 vertical columns, one in each corner. They come in a range of shapes and sizes and are popular in cherry, oak, and walnut finishes. These beds tend to occupy a much larger space in the bedroom than other bed types. Thus, they are suitable for people who own large bedrooms.
Canopy Bed
Canopy Beds give a classic touch and an element of romance to any bedroom. Thanks to the decorative frames with a higher headboard and lower footboard, users can make a ceiling or canopy with ornate or decorative fabrics to cover the bed while they sleep. There are two types of canopy beds—contemporary and traditional canopy. Make sure to look into the intricacies of their design to pick one that best compliments your room's design before you hit purchase.
Bunk Bed
Bunk beds are a fan-favorite with kids and teens. They're made from wooden frames that have equal-sized headboards and footboards with one bed directly above the other. A ladder is used to get on the top bed. They're a great space-saving piece of furniture that gives adults the freedom to store an extra bed without sacrificing floor space for it.Bunk beds can be found in variations including, but not limited to, Double Decker, Loft Bunk, L-shaped Bunk, Twin Over Full Bunk, Futon Bunk, and Bunk with Trundle.
Futon Bed
A futon bed is a bed-cum-sofa that has a low base and a solid flat structure. This construction contributes to comfort while maintaining spine health and managing back pain. It comes in various sizes, frames, and styles and is generally used to recline, rest, or sleep comfortably. Place it in your guest room to serve a dual purpose—seating and sleeping.
Ottoman Bed
The Ottoman bed has a unique storage-friendly design with gas-lift hydraulics placed beneath the mattress base to access the storage space. They allow you to declutter your living space and add a tinge of luxury to your bedroom without sacrificing space or comfort.
Storage Bed
Storage beds have storage spaces for storing personal items beneath or surrounding the bed's mattress. Some storage beds have a hinged frame that can be lifted to access the storage space below it for storing clothes, sheets, and other items in an organized manner. They're best used in smaller homes with limited flooring capacities.
Now that you know the different types of designs that can elevate the look of your room while giving you flexibility, comfort, and storage options, let's explore the sizes you can get them in.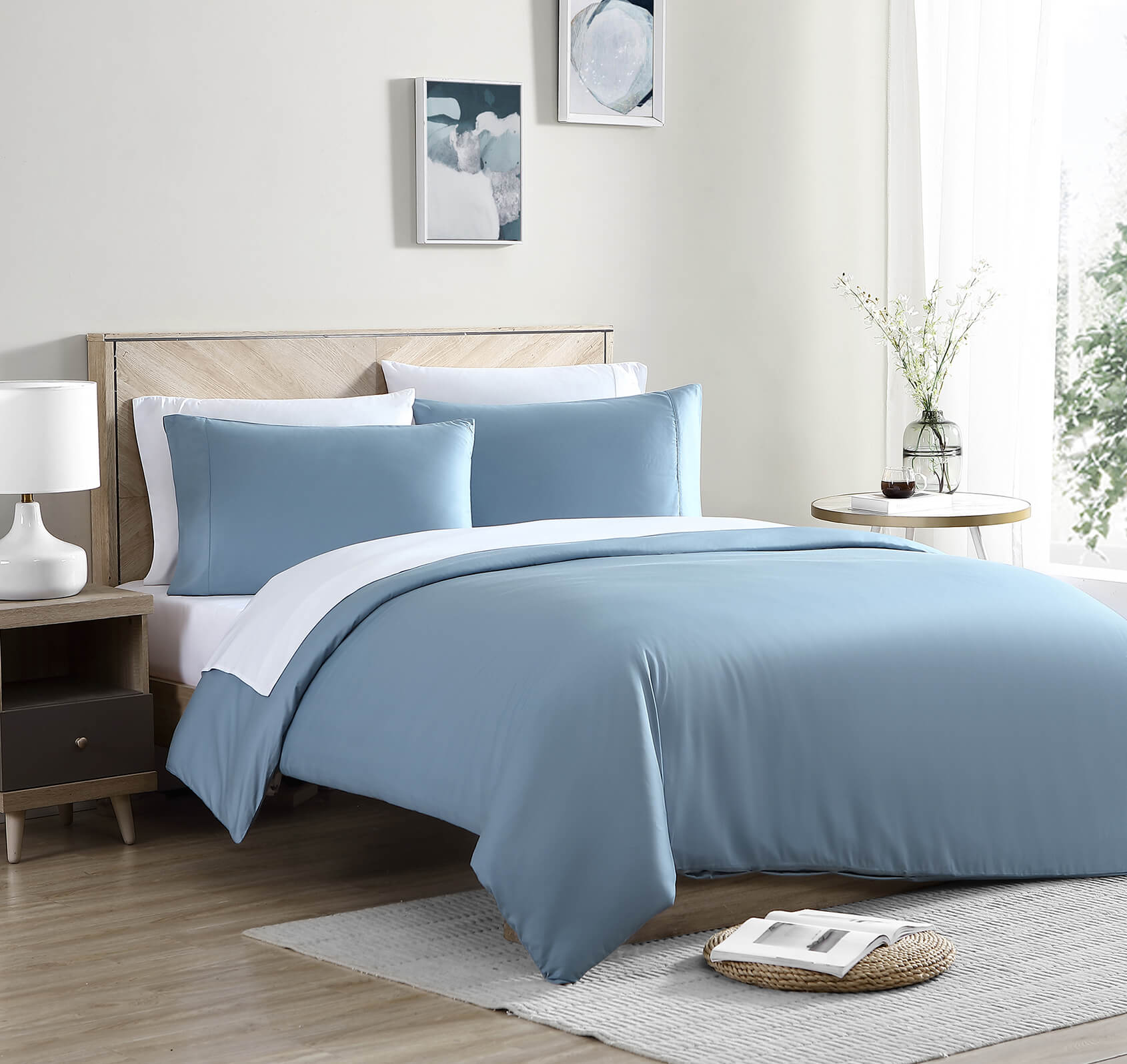 A Guide to Bed Types: Size Edition
Single Size Bed
The smallest model, the single bed measures 36 x 75 inches. Its narrow proportions make it suitable for use in rooms for toddlers and small children.
Twin Size Bed
The twin bed measures 39 x 75 inches, making it slightly bigger than a single bed. It can accommodate one child or one adult sleeper. It's best used in smaller spaces.
Twin XL Size Bed
Twin XL is about 5 inches longer than the Twin bed variant. Due to its added length, it makes a great option for us in dorms and rooms of taller kids and single adults. 
Double Size Bed
The double bed measuring 54 x 74 inches was originally used for two adults. It now serves as a bed for a single person. The double bed is a great choice for rooms that don't have flooring limitations. It generally runs on the larger side and thus, offers more sleeping surface. 
Please note: The UK and US standards have led to a misconception that the double bed is a different size than the full bed size. It would be important to note that the only differing factor is their name, not their actual sizes.
Queen Size Bed
The queen-size bed, measuring 60 x 84 inches, is one of the most common bed sizes sold on the market today. It's ideal for two adults with limited floor space in their bedrooms or single individuals who tend to move around when they sleep or share their bed with a pet. You can add to the versatility and appeal of a queen-size bed by choosing one with storage options. This will give you a comfortable bed to sleep in and great storage space to safely put away items you need only occasionally.  
King Size Bed
The king bed size, measuring 76 x 80 inches, is the perfect couple's bed. It is the same length as the queen-sized bed, but it has an additional 16 inches in width over the queen-sized variant. This gives the couple plenty of distance to complement their sleeping habits and is also big enough to squeeze in kids or pets. This bed is great for sleeping with your couple being with a less or more touchy sleep position, it gives space for the whole specturm. 
California King Size Bed
The California King bed, measuring 72 x 84 inches, is the biggest bed size on the market today. If you're looking for an even bigger variant, you will have to opt for a custom fit. This bed is suitable for big master bedrooms and is generally used by tall individuals and couples who expect a little one to sneak in during the night into the additional space.
Wrapping Up on Bed Types and Bed Styles
Wyoming King Size Bed
The Wyoming King bed, measuring 84 x 84 inches, is a variation of the king size bed.
Texas King Size Bed
The Texas King bed, measuring 80 x 98 inches, is a variation of the king size bed.
Alaska King Size Bed
The Alaska King bed, measuring 108 x 108 inches, it may not fit in some rooms as it is huge! It is a variation of the king size bed.
This guide does not cover a comprehensive list of bed types. However, the items discussed in these listings are hands down, the best types of beds that offer great comfort and support while occupying minimal space and elevating the look of any room effortlessly. So, if you're in the market for a bed, make sure to use this guide to guide you to the perfect fit.